Umar Salamov Goes To 22-1, Gets 17th Stoppage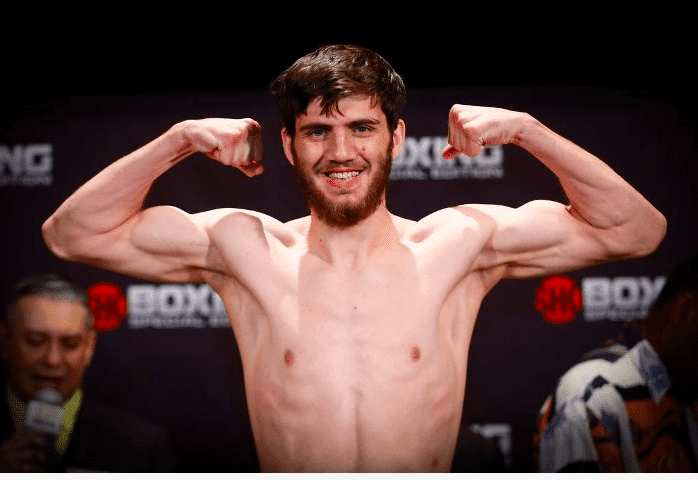 UPDATE: Umar Salamov fought on Sept. 5 in Grozny, Chechen Republic, Russia, and scored his 17th stoppage win.
In round two against German Denis Liebau, a left hook to the liver region put Liebau to the mat. He couldn't beat the count amd Salamov moves to 22-1. The end came at 2:15, for the record. The winner got extra mustard, swinging the hook with a wide arc, and it had a debilitating effect.
The light heavyweight is promoted by Dmitriy Salita, and he's calling out the big dawgs at 175.
"I made a statement in this fight as I promised to demonstrate that I am ready for the best light heavyweights in the world," Salamov said after the win.
"Umar showed that he is world class, he has all the tools to be a world champion," Salita said. "He wants to fight the best and has the skills to beat the top fighters in his division!"
The loser dropped to 24-3.
——————————————————————————————————————————————————————
Many of the fighters coming out of the Russia region are not smack talkers. They like to let their fists talk for them, and the gaining acclaim and drawing buzz via the running of the mouth isn't the way they roll.
Yes, Sergey Kovalev even once he got cooking and ensconced in the big bouts didn't employ an American style method to gain followers with smack talk. So, it's no wonder that when I talk to Umar Salamov, a 24 year old from Russia who is now training in the US, that he isn't blowing me away with the forcefulnnes of his words. He comes off as humble, as a respectable athlete who seems quite intent on blowing up his rep the old fashioned way, by dropping and stopping foes. But, the 21-1 hitter, promoted by Dmitriy Salita, once prodded did allow that he believes as of right now, he is a top tier partitioner at 175; his confidence, paired with that record, has me looking harder at him and putting him onto my personal watch list within 175, a most fertile ground of talent.
"I guarantee that I will show the public that I am the best light heavyweight in the world! No matter if we are in the third or eleventh round my goal is to knock you out! I can't wait to put this on display against one of the light heavyweight champions," said Salamov, via email.
Before he gets to try and take down one of the division's elite, he will first look to gain his 22nd win against Denis Liebau (24-2), a German scrapper, in a bout running Sept. 5 in Grozny.
Salamov grew up in Alkhan- Kala, Russia and started boxing at age 11. His uncle, a boxing enthusiast, introduced him to the sport, he told me. Now residing in Oak Park, Michigan, Salamov clued me in where he came from, and how and why he chose this sweet and savage science to make his mark on the world.
"There are five of us in the family, besides me there are three sisters and a younger brother, our father and mother brought us up in rigor, and at a very difficult time, but despite this we received the best, and to this day they are trying for us," he told me. I went more like my father probably, I like him and I really love animals and in the future I hope to open a farm. My mother is a housewife, so at any time when I return home from the house is cozy and tasty! In boxing, my uncle brought me in early childhood, he drove me with him to various cities, giving the opportunity to study and train with the best!"
The Michigan transplant, rated No. 11 IBF, No. 14 WBO, continued.
"I was and am a big fan of the sport of boxing. That's why it was a great experience to come and train at the legendary Kronk Gym in Detroit. The gym is plastered with former legends and world champions, some of the native champions sometimes even drop by the gym. That is a great atmosphere. I was an elite amateur winning many national and international tournaments and the transition seemed to be natural, even at an early age. Due to my experience and gained skills I was able to progress quickly in the pro ranks. I am learning every day that I am in the gym. I am a student of the game and respect that there is always always room to learn. With that being said I feel that I am the best in the division and want to challenge the champions. I will make a statement September 5th with the goal of landing the big fights!"
I pressed him, asking which of his pro fights, he debuted in 2013, has meant the most to him.
"Every fight is most important I would say that my last one (versus Brian Howard, he stopped Howard in Detroit in June) was that since it was on American television."
He touched on deciding to make the move to the US. "I knew that I needed to take next step in my career so signed with Salita Promotions which is an American based company but Dmitriy also speaks Russian, which is very helpful and kind of unusual. It's unusual because he really grew up in the US and is an American boxing guy all the way, unlike the other Russian speaking boxing business men. He is very unique and very good in that way. I train in Oak Park, Michigan suburbs of Detroit. Salita Promotions helped me get set up and makes sure I have help settling in and being comfortable, really anytime of the day. I like Detroit and Michigan from what I seen so far!"
And, what are his near-term goals? "My goal is to train hard, score knockouts and bring home a world title!"
I asked Salita what makes this kid different, special. "He is very experienced and has world class skills and potential. I believe he has all the ingredients to fight and beat all the current world champions at light heavyweight," the promoter declared. "He wants to fight Dmitriy Bivol and Eleider Alvarez. I believe he is ready for those fights, his fight on September 5th for the WBO international will show his potential!"
My three cents: After prodding, Salamov put aside the humility, which I sense is real and not for show, and admitted he thinks he is an ace at 175. I tend to believe him, but will need to see more of him in action to be fully convinced.