SENATOR MANNY PACQUIAO: STILL CAMPAIGNING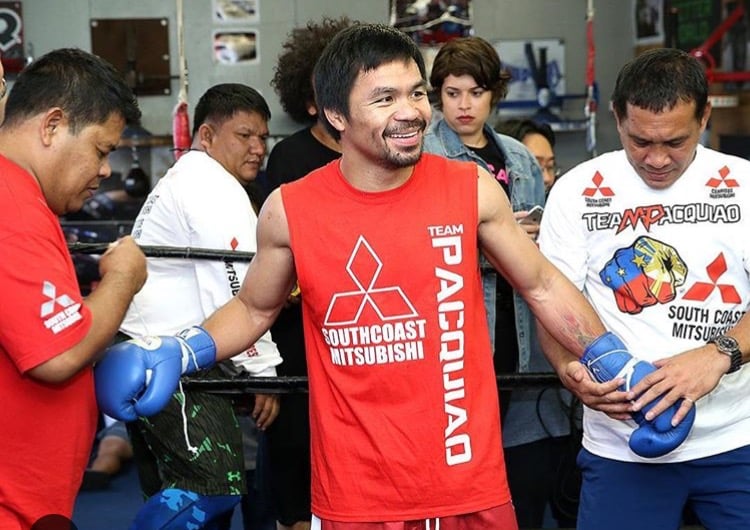 Boxing is the great worm in the world of sports. Sever the tail and the main body keeps squirming. Chop it into four pieces and all four wiggle off somewhere, waiting to regroup.
We are now a few days away from yet another Manny Pacquiao fight, and regrouping is coming to pass.
A big cloud formed over the sport when Pacquiao and Floyd Mayweather, Jr. fought a stinker a year and a half ago. That made it easy for fringe fans to say, "See, I told you so," and walk away. Mayweather, both controversial and supremely skilled, has retired and actually stuck to that — for the moment. There are no longer any Klitschkos in the heavyweight division, nor anything else there worth goosebumps. HBO and Showtime are watching their budgets for fight telecasts a bit more carefully and MMA and UFC, for reasons inexplicable to normal thinking people, thrive at the expense of boxing.
Nevertheless, there are suddenly more bright spots on the boxing horizon than dark ones. Simple passage of time does a lot of that. But the Pacquiao-versus-Jessie Vargas World Boxing Organization (WBO) welterweight championship matchup Saturday at the Thomas & Mack Center in Las Vegas is an ideal showcase for what is ahead.
Two weekends later, Nov. 19, Andre Ward will fight Sergey Kovalev in the new T-Mobile Arena in Las Vegas. If you have even a flicker of interest in the sport, you want to see that one. They are two Mack Trucks on a collision course.
Then you have Triple G, Gennady Golovkin, knocking out all comers while he waits for Canelo Alvarez and his promoter, Oscar De la Hoya, to strategize just the right time for that battle royal in 2017. Think of that one as Ward-Kovalev II.
And in the fringes, you have a still-hungry and able Tim Bradley awaiting what comes next, and a flashy newcomer in Top Rank's Irish Olympic star Michael Conlan. Put Conlan in a ring almost anywhere and the UK fight fans will come, beer in hand, and singing nonsensically at the top of their lungs. Think of what Ricky Hatton did in his Las Vegas fights to stir up the sport. Think of what that might have become if Hatton actually could fight.
But now that Pacquiao has unretired — he said he was done after his masterful April victory over Bradley and we all rolled our eyes — his role in the sport's immediate future is huge.
Assume a victory over a good and aggressive Vargas, and even assume a full-action fight. That leaves Top Rank's boss, Bob Arum, with several intriguing next options for Pacquiao. The obvious is Terence Crawford, who was a recent main-event star in Las Vegas against Viktor Postol. Pacquiao's trainer, the legendary Freddie Roach, was in the wrong corner for that fight, but got a good look at Crawford while trying to help Postol figure out what to do next.
"Crawford is like a young Mayweather," Roach said. "He has great legs and can go the full 12 rounds. We have to be looking at that."
Arum also tossed out another appealing prospect, although one a bit more difficult to envision because of a weight difference.
"I'll tell you one," he said. "Manny and (Vasyl) Lomachenko. "I'd give anything to see that one. I haven't even asked Manny yet."
The weight difference is difficult for that one, although not un-achievable. Pacquaio has become most comfortable at 147 pounds, doesn't even need to try to get to 140 and says he can easily get back down to 135. Lomachenko just moved up from 126 to 130 and will fight tough Jamaican Nicholas Walters, also in Las Vegas, Nov. 26. Roach says he would be O.K. with that fight, obviously because the size difference would give Pacquiao an edge. He would not be O.K. with Pacquiao fighting at 135. Arum certainly likes it because, with both Crawford and Lomachenko under contract to Top Rank, he would have a nice, in-house, three-fight, run-up for Pacquiao, positioning him for boxing's ultimate Mulligan:
Pacquiao versus a coming-out-of-retirement Mayweather.
Roach has a quick answer to those who think that, now that so much time has passed, Mayweather might actually stay retired.
"Why would he come to my gym twice this year?" Roach said. "Had to be looking for Manny."
Pacquiao's several new storylines, since beating Bradley in April, are compelling enough on their own to stir interest. He is the first sitting Filipino senator to fight in a pro boxing match, maybe the first one anywhere. The political activity is apparently not a fraud. All reports have him not missing a main senate session, nor a committee meeting, in the leadup to this fight. He trained around his politics, rising at around 6 a.m. for workouts, then staying in committee meetings and main senatorial sessions until, sometimes, as late as 7 or 8 p.m., before going back to train.
"We never missed a late session," said Roach, who was with him for a month in Manila. "He boxed a minimum of 40 rounds a day. Even if he got there at 8, he went at least the 40 rounds."
The Top Rank staff released a list of 15 committees Pacquiao is serving on. In addition, he has taken stances that can be controversial in the U.S., where his large ticket-buying base could be affected. One stance is his promotion of the death penalty in the Philippines. Pressed to explain, he did so well.
"In Asia," he said, "the Philippines are the only ones without a death penalty. People are bringing drugs from other countries. We had Brazilians bring in $120 million in cocaine. That is one compelling reason."
The line that Pacquiao walks as a superstar boxer is a fascination. He has made millions of dollars, and has done things with that, such as buy a fleet of boats for local fisherman, pay for a hospital, finance university scholarships and, recently, finance the construction of 1,000 homes for the less privileged.
"Manny fights for money," Arum said, "but not for money to buy cars."
To that topic, Pacquiao said, "I keep boxing to bring honor to my country. I am the first senator to be a boxer at the same time, and that is an accomplishment."
He also said, separately, "I am happy because I can contribute to the history of boxing." And, in a thinly veiled shot at his fellow politicians, "I enjoy politics because I serve honestly."
In a few days, we have Pacquiao-Vargas and, suddenly, a rush for more.
Let the fun begin. Again.