MANNYFIST DESTINY: Counting Down To Pacquiao-Vargas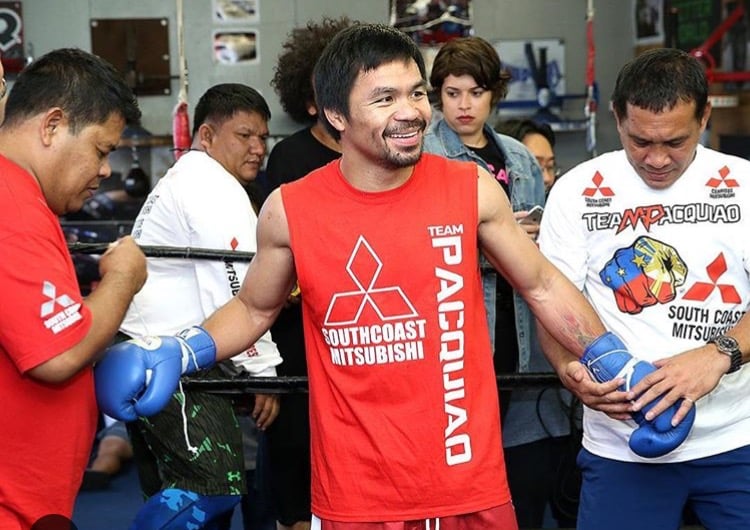 LAS VEGAS – The Honorable Emmanual Dapridan Pacquiao, freshman senator from the Philippines, pulled up a chair at the end of a long table here the other day and gave the gathered dozens a new look at the state of his union.
Gathered around were the least likely of the media set to deeply comprehend Filipino politics; actually, the least likely to comprehend any politics. We were the semi-couth of the journalism world, aka boxing writers. Our dress code is tennis shoes and, if handy, a clean shirt.
Pacquiao, of course, is the ultimate multi-tasker.
In addition to being one of 24 senators who run the government of the massive country of the Philippines, he is also an eight-division world boxing champion, something not achieved by anybody else. That combination is a bit hard to fathom. Ponder your U.S. Senator squeezing in sessions on the heavy bag between committee meetings on immigration and drug trafficking. Could a young John McCain, even as a tough former military veteran, pull that off? Or, even with the natural edge of semantics and the embrace of headline writers, could Barbara Boxer?
In April, Pacquiao won the 58th fight of his legendary career, impressively beating a tough Tim Bradley. Then he flew back home to finish his campaign for senator. At the time, he said it would be his last fight, that, at age 37 (38 next month), he was retiring from boxing. The semi-couths rolled their eyes, having heard this so many times before. The last boxer who said he was retiring and stuck to it was Gentleman Jim Corbett in 1903.
Sure enough, we are now just days from Pacquiao's comeback fight, a match against World Boxing Organization (WBO) welterweight champion Jessie Vargas Saturday night at the Thomas & Mack Center here.
But this one has fascinations well beyond the normal comeback fight, or beyond the usual promotional stuff of the young up-and-comer — Vargas is 27 — taking on the old warrior.
For starters, this somehow doesn't feel like a fight involving an old warrior. Yes, there is 10 year's age difference and five or six inches of reach advantage for Vargas. But Pacquiao projects no image of a scarred and desperate guy; looking for one more big payday and one more romp under the bright lights. If anything, the big surprise of this promotion is not the usual and expected Vargas cocky swagger, nor the articulate but rambling assurances by Vargas trainer Dewey Cooper of Vargas' readiness and eagerness.
No, it is Pacquiao's body language.
Suddenly, the boxing senator has presidential carriage. If you could package poise and confidence, Pacquiao would be your starting point.
For years, he has hesitated to elaborate in interviews, to tackle the nuances of a language that is not his first. Suddenly, he is doing so with a confidence apparently drawn from having to communicate more deeply in much more important topics than left hooks.
"All those boxing press conferences have helped me," he says. "Thanks, you guys."
The semi-couths swell with pride.
In the past, there has been the normal tension from the pressure of the upcoming fight. This time, Pacquiao, smartly dressed and favoring a tie even more than in the past, smiles constantly, more like somebody about to go to dinner than somebody about to get into a boxing ring. There is eye contact and warmth and an apparent peace that seems to characterize a person who is boxing as much for the joy of it as for money and legacy.
Vargas says he is determined to go out and knock Pacquiao's head off. Pacquiao smiles and responds. "Of course," he says. "That's O.K. I understand. I'm a fighter."
Vargas says he has never been surprised by anything that has confronted him in a boxing ring. Pacquiao smiles and counters with the basic learned theory that, often in life as well as boxing, one's reach can occasionally exceed one's grasp.
"We sometimes think more than our skills allow us to do," Pacquiao says, smiling gently, like an older brother trying to softly impart a lesson to a younger one.
Cooper bangs the table at a separate session for the semi-couths and says, "Never underestimate the hunger of a young lion champion." He says it four times.
He says that Pacquiao may think he still has it, but "that may be in his mind, not in his soul."
Pacquiao says his hunger comes from a desire to make history as the first boxing senator, and from a joy that he says he has already achieved by managing his time to remain an active part of the Filipino government while training hard and effectively for this fight.
Vargas says he has power and will put it to work Saturday night. Pacquiao smiles again and says he has never heard a boxer say he has no power. "We are boxers," he says. "That's what we say."
Top Rank Boxing's promoter, Bob Arum, has been among the more hesitant to believe Pacquiao can be both an effective boxer and effective politician. Part of that hesitation is built from a promoter's desire to make sure there seems to be a chance for Vargas, which the current 7-1 odds favoring Pacquiao would dispute. And part is just simple logic. How in heaven's name can Pacquiao do both?
The answer will be blowing in the wind over the Thomas & Mack Center here Saturday night.
Vargas is younger, taller, the current 147-pound champion in the WBO and says, "This is my time." He also says, "I want the best Manny Pacquiao out there, because I want to beat the best."
For Vargas, who will be facing somebody who appears to be completely at peace with himself and his current in-ring and outside-the-ring spot in life, the response to that just might be the age-old comeback:
Careful what you wish for.