Why The Eff Is PACMAN Fighting Jeff Horn!??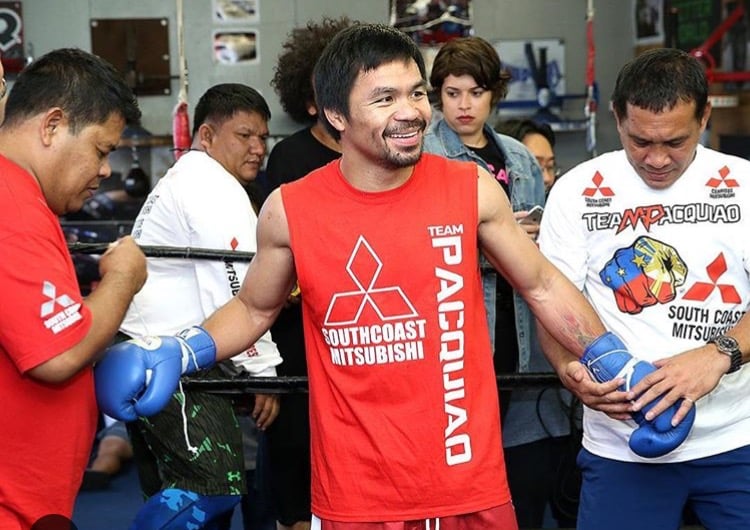 "Money" has something to do with it, but its more about being "Wapakman."
After dominating Timothy Bradley before reclaiming the WBO welterweight title over Jesse Vargas, Manny Pacquiao (59-6-2, 38KO) still looks to prove his loss to Floyd Mayweather was caused more by a damaged arm than a better man who needed controversial IV's to beat him.
Aussie Jeff "The Hornet" Horn (16-0-1, 11KO) would appear the perfect victim. A former school teacher who began fighting as payback against bullies, the 28 year-old Horn was a major attraction at the 2012 Olympics in London. How he became ranked #2 by the WBO is anyone's guess (biggest win over a badly faded Randall Bailey last April), but the videotape reveals a do-or-die game based on forward aggression.
Right away, imagining Horn in front of Pacquiao conjures May 2009, when the most unique ring terrorist of the 21st century destroyed Ricky Hatton. Had that bout taken place in the U.K. at the height of Hatton's popularity today, it would've been an even bigger fight. A similar approach to business is in play with Horn.
Pacquiao could, ostensibly, pair an iconic status with Horn's superstar appeal at Suncorp Stadium on April 22. It is an outdoor facility that holds a massive 52,500 seats in Horn's hometown of Brisbane. Considering Horn was largely responsible for over 12,000 fans at Vector Arena in Auckland, NZ last month (where he defeated a totally shot Ali Funeka on the undercard of Joseph Parker vs. Andy Ruiz), it makes perfect sense.
The fight would also sharply increase Australia's presence on the fight scene,  as the bout could then beam into some 160 different countries, including the U.S., where it would be shown in primetime on a free-TV network TBD presumably.
If Eddie Hearn can find a way for IBF champion Kell Brook to avoid rising star Errol Spence, then the next logical fight on Pac's proposed 4-fight farewell tour of 2017 would be in the U.K. against Brook.
Arum has stated that Mayweather is under no consideration, but if Pacquiao were to defeat Horn (and say, Brook) in impressive fashion, its hard to envision a finale that does not include Mayweather vs. Pacquiao II, as Floyd guns for 50-0.