Pacquiao and Roach Talk As Horn Fight Looms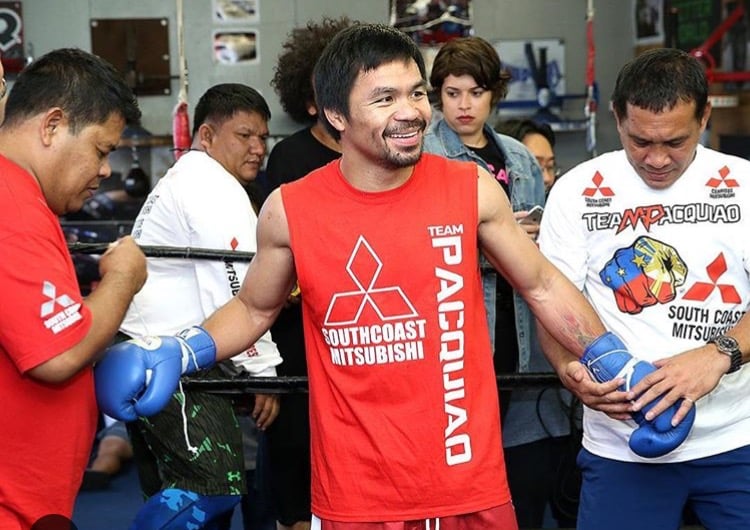 QUOTES FROM MANNY PACQUIAO and TRAINER FREDDIE ROACH
MANNY PACQUIAO
"We have a really good plan for this fight. We worked hard in training camp both in Manila and in General Santos City. I'm totally focused for this fight. I am not looking past this fight because at this point in my career, every fight is the most important. There are no tomorrows if I don't win today.
"Jeff Horn is OK. I've watched video of his fights. He brings a lot of action into the ring.
"I know what he is feeling. I remember everything about my first world title fight.
"Being a senator and training for a fight is hard. It takes discipline and time management. Luckily, the Senate has been in recess for the past few weeks and I have been able to focus on training for my world title fight.
"A Senator's job is to defend his people … to fight for their rights.
"I know Jeff Horn used to be a teacher. In the ring, I'm a teacher too.
"I am ready for Jeff to come out and be aggressive. If he does that it will be a great fight for the fans.
"The biggest crowd I ever fought in front of was at Cowboys Stadium against Joshua Clottey. I'm told this could be bigger [51,000+]. I am very excited for doing that, even though they may not be rooting for me. I am also very happy that ESPN will be televising it live.to the U.S. Now everyone can see it. It's good for boxing."
FREDDIE ROACH
"Manny is a performer. He loves people, loves a big audience. Brisbane has all that for this fight. He'll be fighting in front of the biggest crowd of his career.
"Not everyone gets the opportunity to fight for a world title. It was always my dream but I never fought for one. It's a big deal. Jeff Horn earned this opportunity. He is the WBO's mandatory challenger.
"Manny gave me 110% in training camp. He always does. No one works harder in the gym. The difference in this camp from recent ones has been his aggression. He's scored several knockdowns and I haven't seen that in years. He has kept his foot on the pedal throughout, even when he's had a sparring partner in trouble. After his ring work he is singing and dancing – not well – but that's not the point. He is really hungry to make a statement in this fight against Horn. He's even playing Shakira during his workouts again and he hasn't done that in years.