On Friday night get ready to see fists flying, when NY takes on Ireland in an amateur showdown which will be long on passion and haymakers.
"Best of Ireland vs best of NYC," said friend of boxing and frequent "Talkbox" guest Jay Bulger. "Main Event featuring 6X NYC Golden Glove Champion Christina Cruz. All proceeds go to Cops and Kids Gym, the only free boxing gym for kids in NYC. Email nypdboxing@@aol.com to get tickets."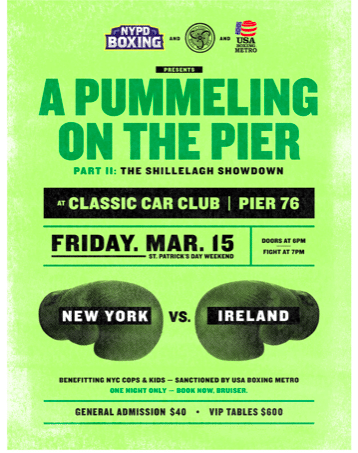 The action will unfold at Pier 76, and the proceeds go to funding a program that truly helps communities.
Cops and Kids gives youngsters who are in danger of going off the rails a reason for being, where they can learn some skills that go beyond throwing one-twos.
In a boxing gym, you can find family…and interact with mentor types who don't forget that it can be hard growing up, because maybe you are in an unstable home, or are food deprived, or hate school and feel hopeless.
Buy a ticket to see this event, I swear the action will be hot and heavy and good bang for your buck…and you can feel good about where proceeds are going!
Comments
comments